COVID-19
Dear Guests and Partners,

Throughout its journey the Kassandra Bay Hotels Collection has shown respect and care for its guests, its people and partners. We have developed strong bonds with each other based on trust, mutual respect and understanding.
 
In this time of uncertainty with the progression of the COVID-19 outbreak the safety of our guests and team members are of paramount priority and thus we follow all rules and regulations issued by global and local government closely.
 
We are continuously monitoring the development of COVID-19 around the world and our thoughts are with those who are affected by this virus and those who are caring for them.
While the COVID-19 outbreak is a precipitously changing and fluid situation, we are committed to keeping you informed and to care for you as a valued guest.
 
Happiness is travelling so we will travel again.
Until then stay healthy, stay safe and stay positive. We're here, waiting for your return at our beautiful island and our given promise to take more care of you.
Kind Regards,
Nikolaos Kalaitzidis
President
 
Your Travel Flexibility
In response to changing marketplace conditions, we are committed to ensuring our customers experience flexibility during these challenging times. We are making additional adjustments to our individual booking policies to ease any of your concerns.
Please contact our reservation department for queries regarding your booking at: reservations@kassandrabay.com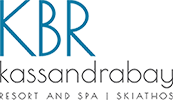 Kassandra Bay Resort & Spa
Vasilias Beach, Skiathos, Greece, 37002
T: +30 2427024201 · +30 2427024202
Email:
info@kassandrabay.com
MHTE:0756K015A0157600