Indulge in a Splendid Night out in Skiathos
When vacationing, entertainment is a fundamental part of our everyday life. Skiathos is a magical island of the Aegean Sea, with spectacular landscapes and superb beaches that are waiting to be discovered. There are quite a few sights and attractions for travelers to enjoy, as well as local recipes and gastronomic treasures to taste. Above all that, there is vibrant nightlife in Skiathos unfolded before your eyes. According to your preferences and your desires, the entertainment options available for you throughout the island will fascinate you.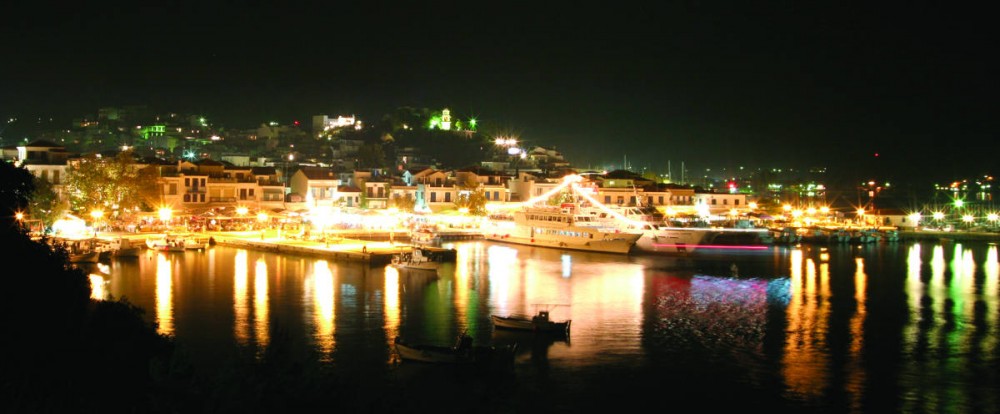 Strolling up and down Skiathos Town, you will be stunned by the cocktail bars standing out along the cobbled pathways. The emblematic street with the cocktail bars is well known all over the world for the colorful cushions that welcome guests to indulge in a splendid night out. Sip on signature cocktails, overlooking the port and gazing at the bright lights sparkling on the waters. Experience the epitome of laid-back atmosphere in one of the most privileged locations of the Aegean.
For those who seek a different type of entertainment, Skiathos will live up to expectations. There are night clubs partying till the first morning hours and bars playing lounge music, Jazz and Rock or any other music that makes your heart beat faster. More than that, Skiathos boasts a special Greek character that will meet the taste of those in search of a genuine entertainment experience. Greek folk music, dances and high quality drinking compose a night you will never forget. After all, Greece is world famous for its nightlife!
Book your stay at the ethereal Kassandra Bay Resort & Spa and explore the distinctive nightlife character of Skiathos, in between relaxing dives at Vasilias Bay and lavishly pampering treatments tailored for your eyes only!